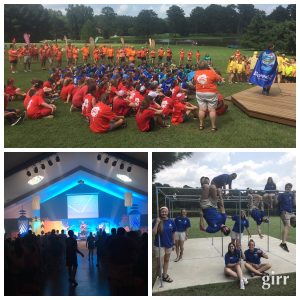 We want to be your campers home away from home while they are at camp. We understand that sending your children to camp can bring up a few questions. This page is designed to bring you information about your child's time at camp. We want you to have full confidence that while at camp your child will in good hands and accessible. Click through our camp tour (on the main page) to see where your child will be staying. Below you will find answers to the TOP  questions asked by parents just like you!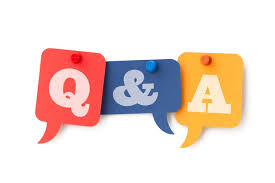 Questions about Camp 
TOP FREQUENTLY ASKED QUESTIONS 
What will my camper be doing while at Timber Creek?
In short: HAVING A BLAST! We offer full court basketball, 9-Square-in-the-air, four square, 2-Octoball/Gaga Ball Arenas, hiking trails, tether ball, canoeing, volleyball, a 32 foot climbing wall (staffed by Timber Creek), a 34 foot indoor climbing wall, (staffed by Timber Creek), a challenge course (staffed by Timber Creek), swimming,  adventure games, archery, obstacle course (staffed by Timber Creek), life-sized Human Foosball arena, 18 holes of Frisbee Golf, Corn Hole, and ping pong to name a few. These offerings in combination with your group leader's plans are sure to make your camper's time a memorable one.
**Note: During the summer, Centrikid Camp Cycles  utilize the Climbing wall, Obstacle Course and Challenge Course for the Adventure track time option. If you want to reserve the rock wall during free time send in your request directly to Centrikid.**
Can I send a letter to my camper?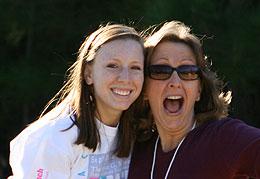 Yes! We encourage you to be a part of your child's camp experience by dropping them a letter to let them know you are thinking of them while they are away.
You can mail your note to your camper at 8113 Morton Marathon Road, Pulaski, MS, 39152. Please place your letter in the mail 4-5 days prior to your camper's arrival date. Also, please list your group's name on the envelope.
Are the cabins temperature controlled?
Yes. All buildings at camp are equipped with digitally controlled heat and air conditioning. Your camper will be as warm or as cool as they like. With hot summers and cold winters, we have made sure your camper will be comfortable no matter the season!
What does my camper need to bring?
This is one of the most frequently asked questions. Although most groups have a packing list they suggest, we would like to offer some simple help in this area. We suggest bringing: Casual camp clothes, Sheets & blankets or sleeping bag, Pillow, Toiletries, towels, garbage bag for dirty or wet clothes, flashlight, bug spray, sunscreen during summer months, bath mat for outside the shower, and of course a bible and journal to study and record how God moves while here at camp.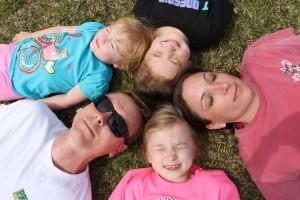 Is it easy to get to Timber Creek? Where is it located?

We are located just 10 minutes off of exit 80. Once you leave the interstate you will only take one turn to arrive at Timber Creek. In cases where you might have to come and pick up your camper, this will make it easy to locate us! Simply take exit 80 off I-20 and head south for 3 miles on HWY 481. Turn left @ the Timber Creek Camp sign (by the small Pulaski Post Office) and travel three miles on Morton Marathon Road. After three miles you will see the camp entrance on your right!
Who do I contact in the case of a family emergency?
We encourage each group leader to carry their cell phone at all times. This person will be your first point of contact. During the summer try your group leader, then the Centrikid Director's number, and then the camp number. If you are unable to reach your group's leader, you may call 601.536.2130 or 601.536.9012.  The camp number rings in the main office as well as the kitchen. We will be happy to relay any message to your group leader and your camper!
My camper has a food allergy.  What do I do?
Because of the volume of people who come through Timber Creek every year, we are well acquainted with how to accommodate most any food allergies. We understand that your camper does not want to be singled out because of his or her allergy. It is our goal to work in tandem with your camper's group leader to make this a non-issue. As a precaution, we DO NOT have any menu items that contain peanuts or tree nuts. We also do not cook with peanut oil. If you have questions about  food that may be made at a facility that processes items with nuts please contact us and our team will be glad to talk with you. We will help prepare food according to your camper's food allergy, and serve them from the line just like every other camper! Rest easy. We will take care of this for you. Please know that we are not able to accommodate "food preferences" due to the large number of people who attend Timber Creek.
**During the summer all Centrikid allergies need to first be submitted through the Centrikid website and contacts. This also needs to be done at least 7 days prior to your Centrikid camp. This is absolutely crucial for us to serve your needs.
**During other times of the year please call 601.536.9012 or email booktimbercreek@gmail.com to make our staff aware of your campers specific needs. IMPORTANT: Please send us this information at least 7 days before arriving at camp so we have time to prepare.
Do you have first aid at camp?
YES! We do have a first aid supplies to handle most situations. It is stocked to handle everything from cuts and scrapes, allergic reactions to food, or stings. However, please know that if you are a part of a group rental or with Centrikid all first aid will be taken care of by a leader of that group. We can only give our supplies to a group leader and not a camper. 
What if my camper needs medical attention?
We are located only 10 minutes away from Scott County Regional Hospital and only 35 minutes away from Merit Health River Oaks Hospital or Merit Health Crossgates hospital. In the case of an emergency that rises above the level of being handled by your group leader and/or the camp staff, your group leader will be able to transport your camper to the hospital to receive medical attention. Each group leader is briefed on the location of and directions to the hospital.
Due to the Covid-19 pandemic we also have specific protocols in place to deal with any suspected symptoms or cases. Please review a brief description of these plans in the Q&A section above – Question # 5.
For more information please reach out to us at 601-536-9012
Follow this link to learn more about their services: http://www.rushhealthsystems.org/scott/index.cfm
What if my camper needs a staff member during their stay?
At Timber Creek we pride ourselves on group response time. In most cases, we will be where your group or camper needs us within minutes! Upon arrival, your group leader is provided with the host on duty's contact information. This host is available to the group 24 hours a day during your camper's stay. During the summer, both the Centrikid staff and Timber Creek Staff are always available.
No matter how small the need, we are here to make your camper's time away from home a comfortable one. Tell your child not to hesitate to call on us. In order to ensure that camp is always a safe place, our staff is not allowed to be isolated with a camper at any time for any reason. We will connect with the group leader or in a group to take care of a need. That is what we are here for!!