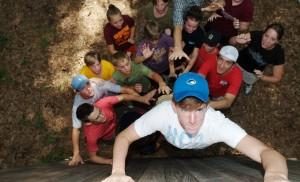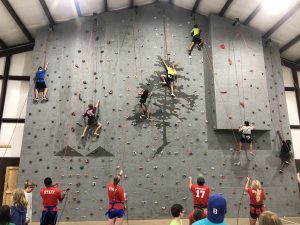 Our Outdoor Adventure program is birthed out of a heart for individuals to grow deeper in their walk with God. It seeks to meet the needs of individuals in the areas of discipleship, team building, leadership, renewal, and fun. Our adventure entails beautiful hikes, team building activities, and adventure programming and games.
This program invites participants to a deeper experience with God in the backdrop of His creation through three simple rhythms: time in God's creation, adventure activities, and team building. Timber Creek offers both an adventure experience and a recreation offering in our Outdoor programming.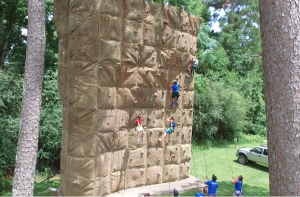 Outdoor Adventure: Low Challenge Course, Rock Wall & Obstacle Course
If you choose our Adventure program you will be led by an outstanding staff in team building and challenges. Our 12 low ropes elements will provide a unique opportunity to grow and learn. We also feature a dynamic 32′ tall outdoor climbing wall, and a 34′ indoor climbing wall.  Our outdoor wall is the only one of its kind in Mississippi. You will love the thrill of reaching the top and repelling down. We have also developed a fun and challenging Obstacle Course. Think Spartan run meets camp!! With over 12 elements (and more on the way) you will surely have an incredible time!!
Low Challenge Elements Include: Raging River, Spider Web, 12′ Wall challenge, Wild Woozy, Trust Fall, Whale Watch, Islands, Shark Attack, Sinking Ship, and more.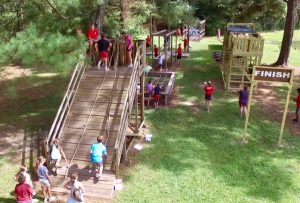 Recreation Adventure: Games and Activities
If you choose our Recreation option you will enter a world of high energy adventure games. Timber Creek offers Outpost, Wells Fargo, Football Post, Capture the Flag Football, Human Fooseball, Trash Can Chaos, and many more. If you are looking for excitement then this is the place for you!!!! Call us for more details on each game.
If you are looking to build your team or just to enjoy some outdoor adventure and excitement Timber Creek haas you covered.  Take some time to get away from the demands of daily life and see what God can do with your staff or group in the outdoors. Contact Greg Taylor at 601.536.9012 or ggnt1@yahoo.com.
CHECK OUT ALL OUR OPTIONS!!
Basketball
Four square
Hiking trails
Tetherball
Canoeing
Volleyball – 2 Outdoor Courts
Soccer
32 foot climbing wall (staffed by Timber Creek)
34 foot Indoor climbing wall (staffed by Timber Creek)
Swimming in our HUGE pool
Adventure games (facilitated by Timber Creek staff)
Archery (facilitated by Timber Creek staff)
Nine-square-in-the-air
Billiards
Ping pong
Frisbee golf – 18 holes
Campfires
Human Foosball Arena
Two Octoball/Gaga Ball Arenas
Obstacle Course (facilitated by Timber Creek Staff)
New Indoor/Outdoor Activity Center – 11,000 Sq. ft. with full court basketball
Corn Hole
Ring Games