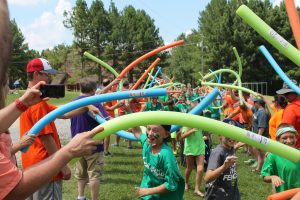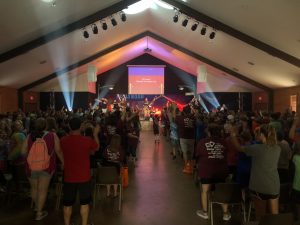 Timber Creek Camp has developed an exciting and dynamic partnership with Centrikid Camp Ministries. Beginning in 2013 Timber Creek became an exclusive venue for Centrikid summer camps during June and July. Since that time over 20,000 kids and adults have experienced life change through camp ministry.
From worship to track time activities and recreation, Centrikid summer camps are centered on the gospel of Christ in every area. Camp staff are committed to using every event and activity to spread the good news of Christ. For more information on the schedule and specific camp details visit the Centrikid website at www.centrikid.com

HAVE QUESTIONS?? HERE ARE SOME ANSWERS TO HELP!
1.How do I register for a Centrikid camp? Registration is done through the Centrikid website (www.centrikid.com) by each church group leader. Since Timber Creek is in such high demand as a Centrikid location, make sure to set your calendar for June 1 every year to register for the NEXT summer season . This will give you the best chance to get the camp session you desire.
2.What do I pack for Timber Creek Camp? First of all think "camp": Casual and comfortable clothes, all toiletries, towels, bath mats for showers are helpful, bedding (either sheets and blankets or sleeping bag), pillow, bug spray, sun screen, bag(s) for dirty or wet clothes, swim suit and anything else that makes you comfortable. Please do not bring cooking or electric appliances. These are not allowed in our sleeping spaces. (Timber Creek is a tobacco free, alcohol free, vape free, and firework free facility)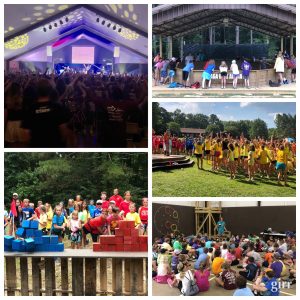 3. What makes Timber Creek such a unique location? As part of our ministry partnership, Timber Creek Camp gives exclusive use to Centrikid for all summer camp cycles. There are no other groups present during summer cycles which gives a truly private camp experience with a gated front entrance.
Timber Creek is also a premier location providing high quality facilities and activities including: Scenic grounds with a lake for canoeing, Beautiful cabins and sleeping spaces (thermostat controlled), Dining facilities with fantastic food, state-of-the-art worship facility, 2 GaGa ball arenas, multiple fields, indoor and outdoor Rock Walls, life size Human Foosball Court, large in-ground pool, 11,000 Square Ft. Recreation Center, and MUCH MORE!! You will love your time at Timber Creek!!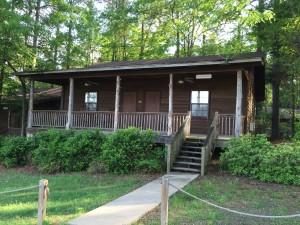 4.Where will I be staying while at camp? Our sleeping spaces have been designed with your comfort in mind. Every cabin and sleeping area is thermostat heated and cooled. Bathrooms have showers with privacy walk out areas, multiple sinks, and private toilet facilities. The beds are single bunkbed style with new comfortable mattresses. Some cabins have a single over a full size bed bunked. Cabins 1-32 sleep 10 people each. The Woods Bunkhouse has 6 individual rooms sleeping 5 each with a bathroom facility at one end of the building, The Timbers Bunkhouse has 2 sides that each sleep 24 people (12 bunkbeds). All cabins have a beautiful porch with rocking chairs. The Bunkhouses either have a porch or a deck for you to enjoy. **Check out our camp tour on the main page for pictures and video of our facilities**
5.What if my camper has a food allergy? Who do I talk with to help?
Because of the volume of people who come through Timber Creek every year, we are well acquainted with how to accommodate most any food allergies. We understand that your camper does not want to be singled out because of his or her allergy. It is our goal to work in tandem with your camper's group leader to make this a non-issue. As a precaution, we DO NOT have any menu items that contain peanuts or tree nuts. We also do not cook with peanut oil. Our menu does not contain any shell fish as well. We will help prepare food according to your camper's food allergy, and serve them from the line just like every other camper! Rest easy. We will take care of this for you. Please know that we are not able to accommodate "food preferences" due to the large number of people who attend Timber Creek.
THE PROCESS
**ALL Centrikid allergies need to first be submitted by email at CentriKid@LifeWay.com or though the special attention cards process.  This  needs to be done at least 10 days prior to your Centrikid camp. This is absolutely crucial for us to serve your needs. Centrikid will submit these allergies to our camp before your camper arrives. Please know that we can not make arrangements unless you have submitted your allergy information to Centrikid. Once received, our goal is for our Kitchen Manager to call the parent and discuss the allergy. Our Kitchen Manager will also meet with the camper and group leader/parent on the first day of camp at 4:15 in our dining hall. We want you to feel confident he/she is well cared for while at camp.
If you have any other questions about your time at Timber Creek Camp please call us at 601-536-9012 or email at booktimbercreek@gmail.com. SEE YOU AT CAMP!!!